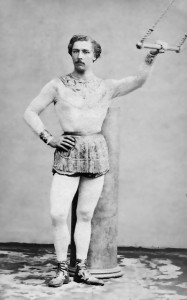 The leotard came into existence in the 1880s. It was named after a young French acrobat called Jules Léotard, who invented the flying trapeze act by stringing some swings over his father's swimming pool. Léotard performed in a tight, self-designed one-piece costume. Unsurprisingly, his scantily dressed flying act was immensely popular with the tightly-corseted young ladies of Victorian England. His notoriety as a lover was sealed when George Leybourne wrote a hit music hall song entitled The Daring Young Man on the Flying Trapeze:
 Oh, he floats through the air
With the greatest of ease,
This daring young man
On the flying trapeze;
His actions are graceful,
All girls he does please,
My love he has purloined away!
Sadly, reality failed to live up to the legend. Jules died at the tender age of 30, probably from smallpox, just as the term 'leotard' was gaining popular currency. Had he been alive to trademark his scandalous gym wear, he might well have ended up swinging from the rooftops of the largest banks in Europe.